Make it six weeks in-a-row that Kendal Tucker has finished no worse than second aboard the DIRTcar eSports Tour.
The defending Tour champion bagged his second Feature win of Season 3 Wednesday night with the Hoosier Racing Tire Big Block Modifieds in impressive fashion, winning a very close battle with Blake Matjoulis, of Ashville, NY, after a restart to grab the lead for good and pocket another $250 check.
In short, Tucker had a perfect night – setting quick time in Qualifying, winning his Heat Race and eventually the 50-lap Feature from the pole with a hard-charging cast of virtual racers behind him.
Tucker, of Mt. Airy, NC, led Lap 1 but gave it up on the next circuit to outside polesitter Matjoulis. He and his 127 Industries machine fended off his rivals out front for the next 26 laps before the caution flag was displayed, resetting the field.
The green dropped once again and Tucker got a great run on the top side to challenge Matjoulis for the lead. Using that high-side momentum out of Turn 2, Tucker pulled ahead of Matjoulis as they slid into Turn 3 and took the line away to seal the spot.
"Once we got a couple of restarts in, I started being pretty aggressive and wanted to make some moves," Tucker said. "That last restart there – we got a really good start on [Matjoulis] and was able to wheel around the top in [Turns] 1 and 2 on him."
From there on out, it was all Tucker and his #00 Swindell SpeedLab entry. He had opened a two-second advantage over the rest of the field by the time he crossed the finish line, fully displaying his fixed-setup prowess on iRacing.
It comes in as another great points night for Tucker, as he extends his advantage over runner-up Tyler Schell, despite having entered one less race than each of his closest competitors. Still, he seeks his second Tour championship as Season 3 begins to wind down to the final three races.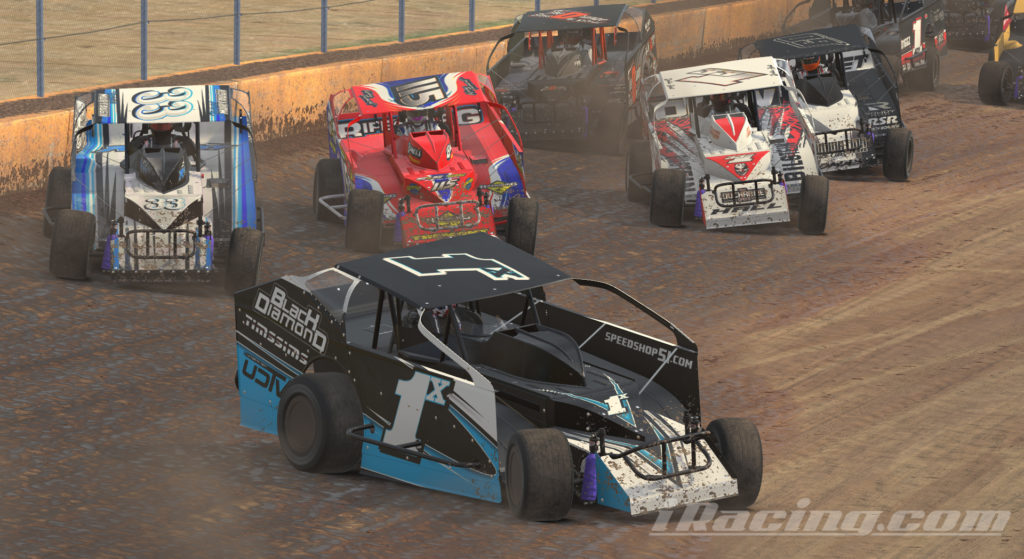 "I definitely didn't think we had a shot at the points this season at all. Luckily, these six races we've ran so far, we've been able to have some pretty good speed in all the different cars we've ran so far," Tucker said.
The DIRTcar eSports Tour is back in action with the NOS Energy Drink 360 Sprint Cars at Kokomo Speedway next Wednesday night for Round #8 of Season 3. Catch all the action live on DIRTVision presented by Drydene.
Hoosier Racing Tire Feature (50 Laps) – 1. 00 Kendal Tucker (1), 2. 127 Blake Matjoulis (2), 3. 12 Alex Bergeron (3), 4. 41 Logan Rumsey (7), 5. 33 Evan Seay (19), 6. 22 Mason Hannagan (5), 7. 85 Tyler Schell (6), 8. 09 Tanner Tomasi (18), 9. 000 Kevin Dedmon (20), 10. 115 Boddie Parker (9), 11. 717 Bobby Rafferty (14), 12. 1 Jesse Enterkin (12), 13. 19 Christopher McGuire (10), 14. 331 Dustin Hall (16), 15. 033 Richard Murtaugh Jr. (8), 16. 17 Brett Rowles (22), 17. 8 Austin Hunter (4), 18. 48 Dylan Yeager (17), 19. 13 Matt Remick (21), 20. 78 Justin Bishop (23), 21 9 Ken Burns (15), 22. 06 Rylan Gray (13), 23. 185 Hunter Heck (11), 24. 88 Chris Olson (24)