Tucker runner-up for third time in Season 2, retains points lead after lapped-car tangle
Just two weeks after suffering a last-place finish in his DIRTcar eSports Tour Season 2 debut, Hayden Cardwell now sings a sweet song of redemption.
The iRacing Pro driver from Knoxville, TN, exited the DIRTcar eSports Tour lobby early back on December 16, his Season 2 debut in shambles after starting on the pole of the Big-Block Modified Feature and crashing out less than 10 laps in.
But Wednesday night made up for all of that, as he took his Mike McKinney-identical #96m-painted Summit Racing Equipment UMP Modified to Victory Lane at the Fairbury Speedway for the second time in his DIRTcar eSports career, picking up the $250 winner's check for the first time since July 1 in Season 1.
"It means a lot to come out here and pick up a win in something that isn't a Sprint Car," Cardwell told announcer Chase Raudman in the DIRTVision post-race interview. "It feels pretty good."
Cardwell began his march to Victory Lane from fourth on the starting grid and had front-row seats to a slide job-fest in the opening laps between polesitters Austin Carr and current Tour points leader Kendal Tucker.
Tucker, of Mt. Airy, NC, eventually won the passing battle and began to open up a gap between he, Carr, Cardwell and 2019 World of Outlaws Morton Buildings Late Model iRacing World Champion Blake Matjoulis.
Cardwell eventually wrestled the runner-up spot away from Carr and set his sights on leader Tucker. He stayed glued to the top side of the virtual quarter-mile and closed the gap on Tucker as the race neared the halfway point. Then, opportunity knocked.
The slower lapped car of David Ortiz II had been running right through the middle groove when Tucker reached his rear bumper and dove to the inside in an attempt to make the pass; Cardwell a half-car-length behind. Tucker slid up the track and right into the side of Ortiz, throwing him off-kilter, opening the door for Cardwell to make the pass on the top.
"I much rather would have gotten passed straight-up than getting into it with a lapped car right there," Tucker said of the incident. "[Ortiz] was entering in the middle in no-man's land and I was trying to slide him, but… he should have gotten out of the way in my opinion, but that's just racing. That's just how it goes sometimes."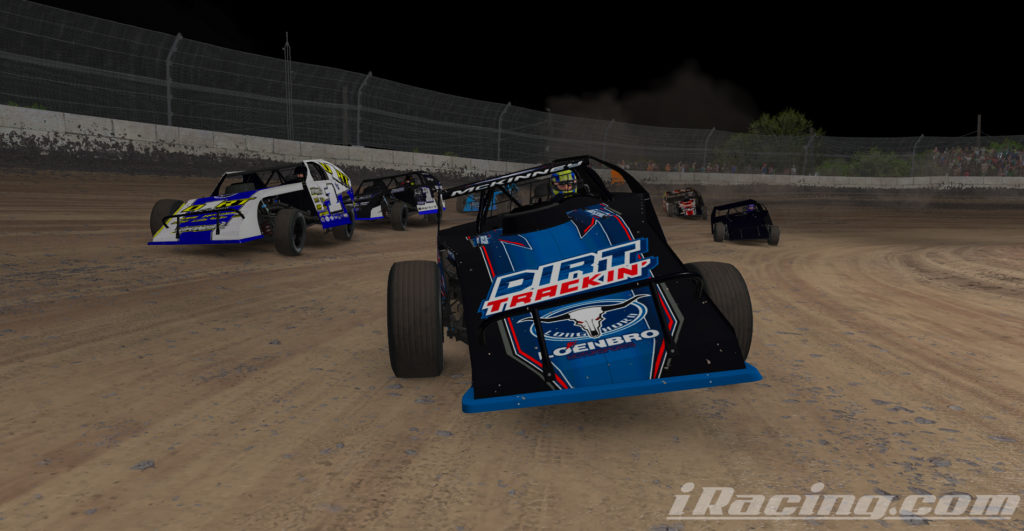 Cardwell raced into the lead as they crossed the line to complete Lap 17, Tucker a few car-lengths behind. One final restart gave Tucker and Matjoulis behind him a chance to make a move, but both stumbled as the green flag dropped, allowing Cardwell to pull away and bring it back home for his second career DIRTcar eSports Tour victory.
"They are probably one of the hardest cars to run on the top, in my opinion," said Cardwell, an iRacing Sprint Car regular, of piloting the DIRTcar UMP Modified. "In these, it's kinda tricky because if you barely miss it, you'll be off the pace. But if you get the right-rear in the wall too much and the front end comes around, you'll pretty much knock the right front off and can't drive it anymore."
Despite the earlier tangle with the lapped car, Tucker was able to nurse his beaten Swindell SpeedLab eSports #00 home to his fifth-straight podium finish of Season 2. Bottom-feeding for most of the 40-lap contest, Tucker once tried the high line but couldn't make it work in order to regain the lead.
"I just had too much damage to run up there with them guys. Luckily, I was able to put around that bottom on the slider line in [Turns] 3 and 4 and keep enough speed to keep them guys behind me," Tucker said.
Matjoulis crossed the line in third after a solid outing in only his third appearance with the Tour this season. Coming from fifth, the Ashville, NY-native picked up $100 for his efforts, but was left with much to be desired from his performance.
"Hayden would have been hard to get by," Matjoulis commented on his perceived chances to make a move for the lead. "I couldn't pass; just couldn't go anywhere. In [turns] 1 and 2, there were a couple grooves but in 3 and 4, it was so single-lane. It was a bummer, honestly."
The DIRTcar eSports Tour action picks back up next Wednesday night, Jan. 6, with the NOS Energy Drink 305 Sprint Cars at the Chili Bowl Nationals in Tulsa, OK. Catch all the action live on DIRTVision!
Summit Racing Equipment Feature (40 Laps) – 1. 07-Hayden Cardwell [4]; 2. 00-Kendal Tucker [3]; 3. 127-Blake Matjoulis [5]; 4. 331-Dustin Hall [13]; 5. 112-Devon Morgan [2]; 6. 01-Austin Carr [1]; 7. 29-Richie Yost [9]; 8. 44-John Ruggiero Jr. [12]; 9. 1-Jesse Enterkin [6];  10. 12-Alex Bergeron [16]; 11. 787-Cody Zobrist [11]; 12. 8-Matthew Howard [20]; 13. 171-Brandon Freeburg [10]; 14. 41-Matthew Logan [8]; 15. 242-Blake Stieb [19]; 16. 16-Tyler Kruep [14]; 17. 64-Dawson Cook [7]; 18. 19-Seth Smyser [15]; 19. 46-Jonathan Nause [18]; 20. 34-David Ortiz II [17]