The Super DIRTcar Series and DIRTcar Northeast competitors came together one last time in 2022 to recognize and celebrate the season's accomplishments. More than $330,000 in prize money was awarded, with Super DIRTcar Series title winner Matt Sheppard taking home a Series-high $60,000 payday.  The awards handed out included the Super DIRTcar Series title and Rookie of the Year honors, along with the four DIRTcar Series titles, each division's Rookie of the Year and each division's Hoosier Racing Tire Weekly championship.  
"Super" Matt received his trophy on stage after a fantasy season. Finishing 83 points in front of second place finisher Mat Williamson, he captured the Series title for the ninth time. After logging one of the most successful seasons in his storied career, including his third career win of the Billy Whittaker Cars 200 during the historic 50th Super DIRT Week and more than 15 wins across all DIRTcar events, he stood on stage and recognized those who made it all possible for him.  
"I'm obviously very blessed to be surrounded by such a great group of people and I couldn't do it without them," Sheppard said. "And that's what makes this whole deal work is the people that surround me. "It seems just one way or another, we scratched, crawled, got one win after another, anyway we could do it. Man, it was special. I've been a big follower of DIRT Modified racing, and I don't know if anybody has pulled a season like we did this year. Like I said before, it's about the people right here at these tables."  
Dave Marcucculli won his first career Hoosier Tire-VP Racing Fuels DIRTcar 358 Modified Series title, worth $6,000, to add to his resume alongside his DIRTcar Sportsman Series title. His victory was aided by consistent finishes, including five top-10 finishes and three top-5 finishes. He beat out second place Lance Willix II by 28 points.  
Veteran driver Cody McPherson topped off his dream season by accepting the trophy for the DIRTcar Sportsman Modifieds Series and check for $3,000.  After not being able to compete on U.S soil for over two years, McPherson came back hungry to compete. Not only did he win the division title, but also the Hoosier Tire Weekly Championship and the coveted Chevrolet Performance 75 during the 50th Super DIRT Week.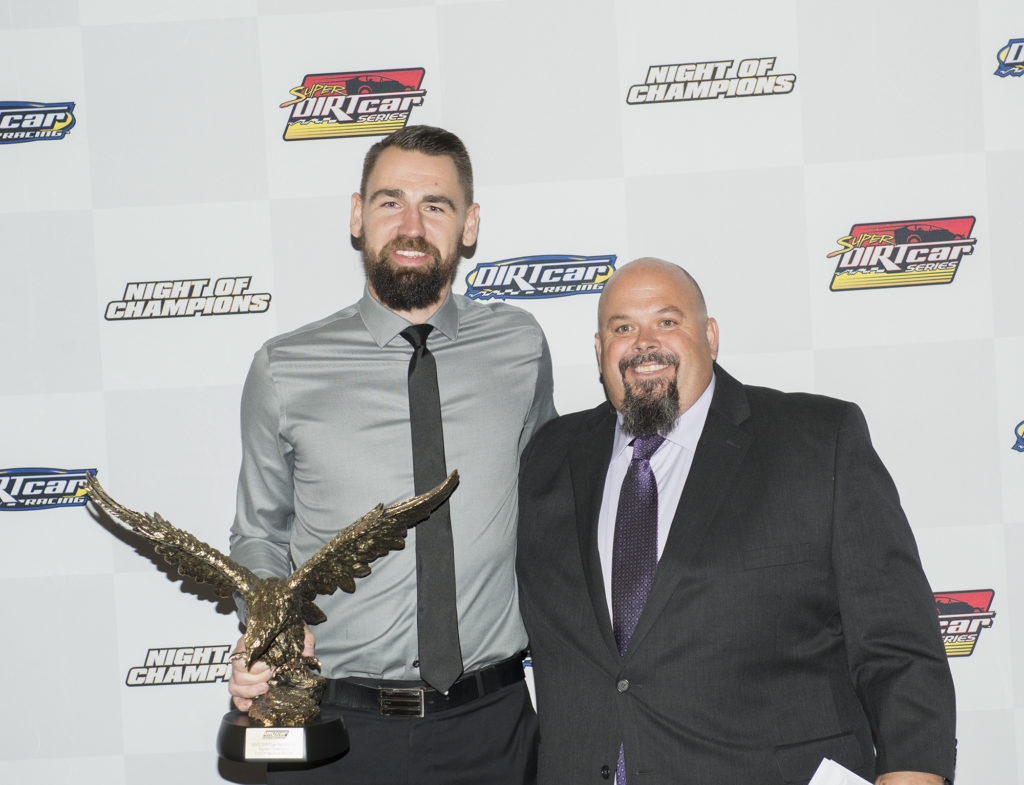 "It's just been an amazing year," McPherson said. "We accomplished so many goals. You imagine doing all these amazing things, but then when it happens, it's just crazy. I have so many people around me to thank for all they do, because I couldn't do it alone." 
In his final year of racing, Gatineau, QC driver Bruno Richard left it all out on the track, winning his second career DIRTcar Pro Stock title, worth $1,000, in just three seasons of competing in the division.  He finished 62 points ahead of runner-up Luke Horning and 69 points ahead of third-place Justin White. Richard will retire with four Feature wins, a track championship, and the DIRTcar Rookie of the Year title. 
Anthony Perrego won the Hoosier Tire-VP Racing Fuels Super DIRTcar Series Rookie of the Year title, finishing sixth in points — the highest out of any rookie full-time driver. He notched five top-five finishes and 10 top-10 finishes, with his season's best second place finish coming at his home track Orange County Fair Raceway on July 28.  
With five top fives and 16 top-10 finishes, including his first DIRTcar Big Block Modified win at Brewerton Speedway, Zachary Payne was awarded the Big Block Modified Rookie of the Year, receiving $1,000. With a tie for an eight-place finish at his home track Can-Am Speedway, assisted by six top fives and 10 top-10 finishes, Taylor Caprara brought home the award for Rookie of the Year in the DIRTcar 358 Modified division.  
Zach Buff bested his brothers who he frequently raced during the season along with many others to capture the DIRTcar Sportsman Rookie of the Year, receiving $500. He saw a very successful season with five Feature wins and his first career Sportsman Series win in the East Region.  
Zachary Sorrentino was awarded the Rookie of the Year in the DIRTcar Pro Stocks, assisted by his first career win at his Saturday night home track, Lebanon Valley Speedway. He finished 15th overall in the Hoosier Racing Tire Weekly Series and fourth in track points at Lebanon Valley.  
There were six DIRTcar Sportsman Modified Region champions in 2022, with each paying $500 to the winner. The regional champions were: Tyler Corcoran (Central), Cameron Tuttle (Western), Cedric Gauvreau (Northern), Michael Wright (Eastern), Cody McPherson (Canadian Western), Shane Pecore (Canadian Northern).  
The Hoosier Racing Tire Weekly Championship titlists were also honored.  Larry Wight took home a $5,000 prize in the Big Block Modifieds, Mat Williamson was awarded $3,000 in the 358 Modifieds, Cody McPherson won $1,000 in the Sportsman Modified, and Chad Jeseo also won $1000 in the Pro Stocks. 
FULL 2022 SUPER DIRTCAR SERIES POINTS PAYOUT 
1–Matt Sheppard, $60,000 
2–Mat Williamson, $35,000 
3–Jimmy Phelps, $20,000 
4–Max McLaughlin, $15,000 
5–Peter Britten, $12,000 
6–Anthony Perrego, $10,000 
7–Marc Johnson, $9,000 
8–Billy Decker, $8,000 
9–Adam Pierson, $7,000 
10–Jack Lehner, $6,000 
11–Tim Sears Jr., $5,000 
12–Darren Smith, $4,000 
13–Kevin Root, $3,500 
14–Marcus Dinkins, $3,000 
15–Paul St. Sauveur, $2,500 
16–CG Morey, $1,000 
The Super DIRTcar Series will commence its 2023 at Volusia Speedway Park during the 52nd DIRTcar Nationals, Feb. 15-18. For tickets, CLICK HERE. 
If you can't make it to the track, you can watch every Super DIRTcar Series live on DIRTVision — either at DIRTVision.com or by downloading the DIRTVision App.