Cory Reed talks 2023 SummerFAST, strengthening DIRTcar Northeast, and his future hopes for the region
In three decades of working in the northeast, Cory Reed has seen the region's racing divisions go through a plethora of changes. And what he's seen recently has him excited about the future.
Reed, of Port Byron, NY, is the DIRTcar Sportsman Series Director and track promoter at Brewerton Speedway, which is set to host the first round of the second annual SummerFAST event – one Reed cited as a positive for the region.
The three-day event, consisting of races at Brewerton on Monday, Aug. 14, Fulton Speedway on Tuesday, Aug. 15, and Land of Legends Raceway on Wednesday, Aug. 16, showcases the Super DIRTcar Series all three nights, along with the DIRTcar Pro Stock Series at Brewerton and DIRTcar Sportsman Series at Land of Legends.
"You want (drivers and fans) to pack their bags, and head out and be able to do three nights in a row," Reed said. "I'm not just talking about race teams; I'm also talking about the fans. I think back to the early 2000s, and the number of motorhomes you would see at a lot of races was large. An event like SummerFAST allows you to bring that back, to get a traveling group of campers to go race to race."
With the travel demands on teams and fans greatly mitigated due to the proximity of all three tracks, the potential for event participation has increased, laying the foundation for SummerFAST to be a marquee destination in the northeast.
"The one thing I'm really liking that I'm seeing is that I keep getting tags on our social media about some team that I never would have expected to come here (to SummerFAST)," Reed said. "The growth pattern to me is that. I'm hoping the growth continues so that people make this an annual destination."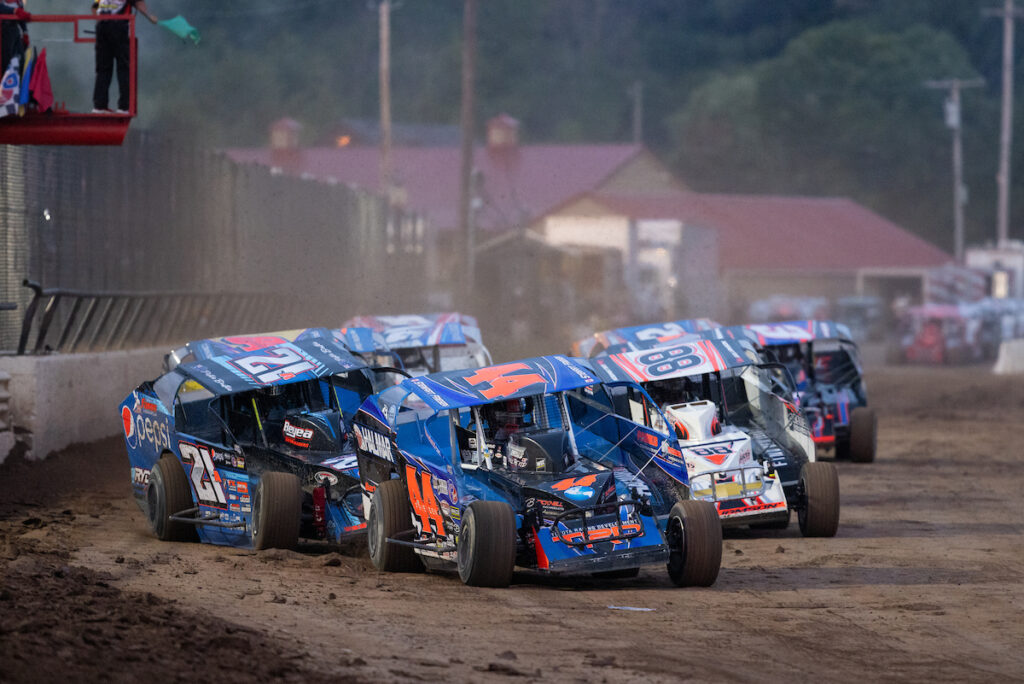 He also credits off-track changes as a reason for the marked growth. Introducing various mediums and methods to promote and market the competitions helped overcome challenging situations and fulfill unmet needs.
"The efforts of Super DIRT Week, the efforts of DIRTVision, having a PR Coordinator, has helped the racetracks," Reed said. "There was a time where there was a significant void. That has helped us from a sanction's perspective; having a weekly newsletter, and also a weekly pointsupdate. The Digital Media efforts have grown and gotten way better."
Reed, who previously served as the Super DIRTcar Series Director, sees considerable payoffs appearing on the Series Big Block level when comparing the current state of competition to when he originally took over the position in '99.
"You haven't had this many (Series) followers in decades," Reed said. "I think that's going excellent. Lots of travelers, lots of interest in traveling, just guys that want to do it again. There was a time we fell off in the late 2000s. We would go to Lebanon Valley (Speedway) with nine teams, sometimes… when you're bringing 18 Big Blocks to a track that usually runs Small Blocks, that's a pretty awesome deal."
Overall, Reed sees positive things in store for racing in the region. He sees a talented pool of current drivers and newcomers, and a growing hunger to be a part of the sport. He also sees those seeds of potential being cultivated specifically in multi-day events like SummerFAST.
"We hope from every year on out it continues to sprout and continues to grow," Reed said. "We hope it continues to be better and you hope that next year there's 50 race teams that want to do it… You want race teams from other parts of the world to see this and say, 'Hey, I'm going to do that swing next year.' That's what you want."
For tickets to the SummerFAST event, CLICK HERE.
If you can't make it to the track, you can watch every Super DIRTcar Series race live on DIRTVision – either at DIRTVision.com or by downloading the DIRTVision App.