BRASELTON, GA – There's two new Dirt Street Stock sheriffs in town on iRacing, and their names are Richie and Zane Yost.
These two brothers from Griffith, IN, laid down the fastest two laps in Qualifying, won their Heat Races and dominated the inaugural 30-lap Chevy Performance Street Stock League Feature in Wednesday night's kickoff to DIRTcar eSports Season 2 on DIRTVision.
Richie led all but two laps around the virtual 3/8-mile oval of Lanier National Speedway, making the most of the bottom-middle groove to hold off brother Zane and fellow podium finisher, Jesse Wall.
Wall, of Chesnee, SC, applied steady pressure on the Yosts the entire race but could not seem to find the speed to get by. Several caution flags spotted throughout the event presented him with a few chances to make it happen, but the leaders were just too strong out front.
One final chance for Zane and Wall presented itself with just three laps remaining as the field was bunched back up once again for a green-white-checkered finish. Even with the two right on his rear bumper, Richie held strong and brought it back home for the final checkered flag of the evening.
Richie picked up $100 for his first DIRTcar eSports Feature win just one hour after competing in the Summit Racing Equipment UMP Modified Feature aboard the DIRTcar eSports Tour at the virtual Kokomo Speedway.
The Chevy Performance Street Stock League action continues on the DIRTcar eSports network next Wednesday night, Dec. 9, with the first of two visits on the Season 2 schedule to the USA International Speedway. Registration for this event will remain open for all new entrants until Monday, Dec. 7, at 8 p.m. ET.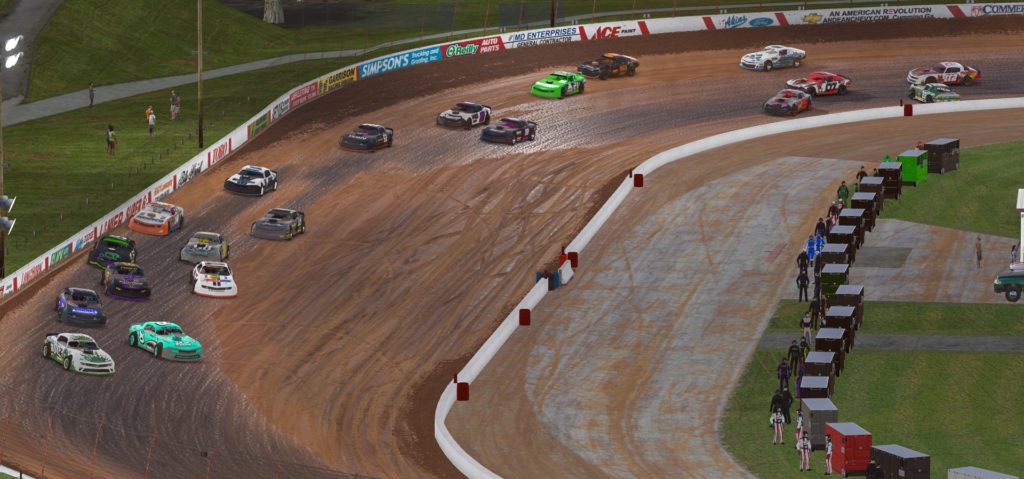 Don't miss a moment of the action! Tune into DIRTVision presented by Drydene every Wednesday night to catch both DIRTcar eSports League races, and visit iRacing.com to learn more about the best in motorsports simulation.
Chevy Performance Feature (30 Laps) – 1. 29 Richie Yost (1), 2. 93 Zane Yost (2), 3. 2 Jesse Wall (3), 4. 16 Bryar Zimmerman (4), 5. 8 Tyler Jackson (6), 6. 10 Caleb Hudgeons (10), 7. 26 Corey Mullinax (17), 8. 18 Kyle Sirratt (12), 9. 52 Marty Czekala (18), 10. 07 Chris Meyers (9), 11. 002 Clifford Bellomy (21), 12. 20 Justin Johnson (19), 13. 28 Brian Smith (22), 14. 22 Ross Wece (16), 15. 12 Slade Johnston (14), 16. 33 Dillon Simmons (11), 17. 51 Justin Fuller (13) 18. 25 Nathan Lemons  (20), 19. 66 Preston Dimsdale (5), 20. 21 Justin Schroen (23), 21. 101 Brent Evans (7), 22. 30 Brad Pascoe (8), 23. 46 Wayne Pearce (24), 24. 1 Andrew Gross (15).