Jackson notches another podium finish, Hackney places third in debut
After leading all but one lap of the 30-lap Feature in his Chevy Performance Street Stock League debut Wednesday night, Carl Kilgore could barely believe his eyes when the caution flag flew with just three laps remaining.
"It all started at that restart," Kilgore told announcer Josh Pike in the DIRTVision post-race interview. "When we had that caution come out… man, my guts were turning, I ain't gonna lie to you."
Tyler Jackson, the two-time Feature winner in Season 2, had been breathing down his neck for several laps before the caution, and was ready to make the move to put himself in DIRTcar eSports Victory Lane at USA International Speedway.
"I knew Tyler Jackson was going to have something because right before the caution came out, I saw him go to the top of Turns 1 and 2. Those last two laps when he came off of 2, and had the run down the backstretch, I was watching my mirror and seeing where he was wanting to go," he said.
Green flag; pedal down. Kilgore stayed glued to the bottom lane in the corners and hugged the outside wall down the straightaways as the field raced out the final laps in green-white-checkered fashion.
Jackson was unable to make the move on the top side that he found advantageous to his run earlier, but he had one option left as he flew down into Turn 3 for the final time around the virtual three-quarter-mile oval.
A bump, a tap, a shove… call it what you will, but it didn't work to Jackson's favor in the end. Kilgore somehow was able to hang onto his #021 Street Stock through Turns 3-4, beating Jackson in a drag race to the stripe to pick up his first career DIRTcar eSports victory.
"Going into 3 on that last lap, I had a feeling something was coming… so I just kinda prepared myself for it, drug the brake a little bit though the center to keep the side-bite in there, and we got the drive off to get the win."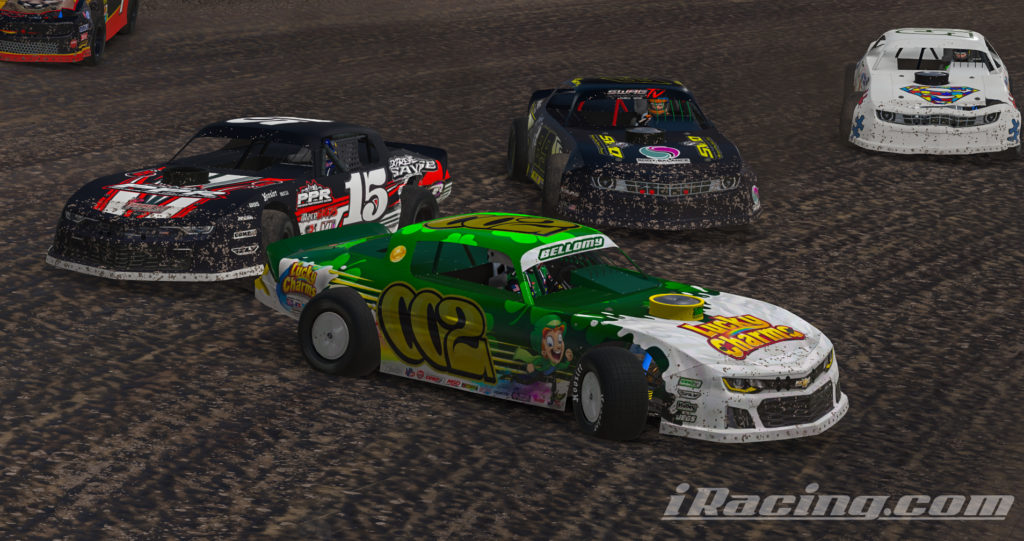 Kilgore's teammate, Keith Hackney, crossed the line in third after running a good slice of the race in second and smashing into a spinning lapped car towards the home stretch. He also picked up his first career podium with the League and a $50 check for his efforts.
The Chevy Performance Street Stock League action wraps up in just two weeks' time on Wednesday, January 27, with the eighth and final race of Season 2 at Lanier National Speedway. Register today at DIRTcar.com/eSports and watch all the action live on DIRTVision!
Chevy Performance Feature (30 Laps) – 1. 021-Carl Kilgore [2]; 2. 8-Tyler Jackson [5]; 3. 69-Keith Hackney [3]; 4. 18-Kyle Sirratt [1]; 5. 111-Lewis Clark [8]; 6. 9-Dalton Peavy [6]; 7. 0-Mitchell Clark [9]; 8. 003-Thorne Zimmerman [16]; 9. 2-Bradley Weaver [17]; 10. 5-Jason Metoxen [15]; 11. 11-Sterling Beard [10]; 12. 93-Steve Miskolczi [11]; 13. 15-Michael Putnam [23]; 14. 5-Zak Williams [18]; 15. 7-Brayden McMahan [21]; 16. 89-Billy Smith [22]; 17. 002-Clifford Bellomy [24]; 18. 82-Paul Visage [4]; 19. 66-Preston Dimsdale [13];  20. 95-Brian Brunscheen [19]; 21. 26-Sean Stevens [14]; 22. 79-Dakota Osborn [12]; 23. 26-Sage Luther [7]; 24. 02-Bradley Steinruck [20]