Jackson, Kilgore score more top-five finishes, now top points standings
Three laps remaining. Restart upcoming. Keith Hackney had one shot to clinch the win he worked so hard to defend all race long.
Hackney, a frequent racer with the Chevy Performance Street Stock League, had led 20 of the 21 laps completed before the restart, and was just three trips around the virtual Limaland Motorsports Park away from his first career Feature win under the DIRTcar eSports banner. He took off on the restart well, but Carl Kilgore hit it even better.
"Carl got a heck of a jump there, and that sort of worried me," Hackney said. "I thought he was going to drive around me on the outside."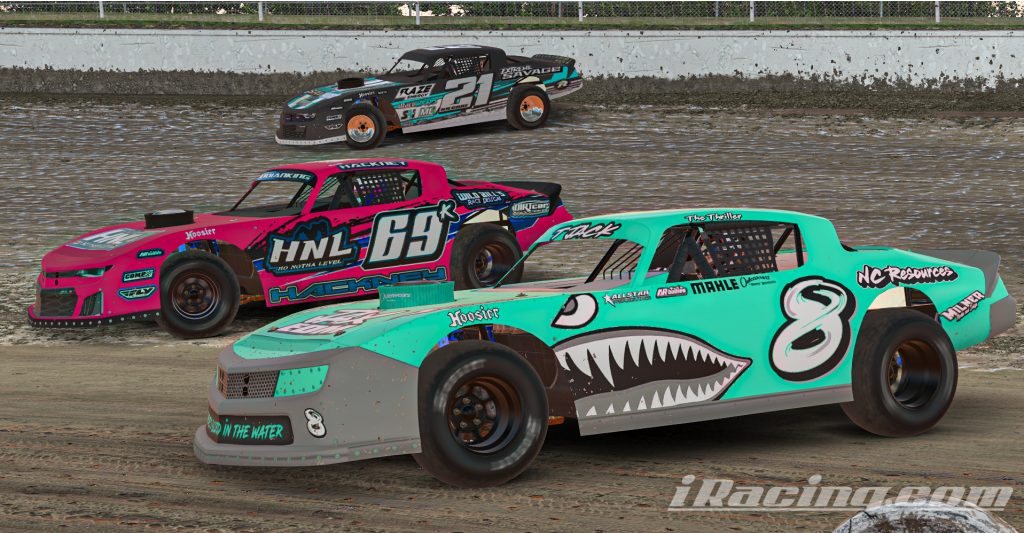 Kilgore, of Greenville, MS, had been breathing down Hackney's neck throughout the 25-lap affair and got a great run to Hackney's outside at the drop of the green. He led the field across the stripe to complete Lap 22, but Hackney stayed with him on the inside.
With a big leap across all three lanes, Hackney, of Calhoun, GA, threw a big slide job on Kilgore in Turns 1-2 to defend the lead. A successful attempt, as Kilgore ran into Hackney's rear bumper at the exit of Turn 2.
This move dampened Kilgore's momentum enough to allow both Tyler Jackson and Jesse Wall to close the gap as the white flag was displayed. As Hackney sped away with the win, three-wide across the line came Kilgore, Jackson and Wall for the runner-up spot.
Wall ended up edging out Kilgore and Jackson by .014 seconds at the line for the runner-up spot with a great move through the middle, threading the needle between his opponents as they raced through Turns 3-4.
"I wish we would have had a few more laps up there to try and catch Keith, but man, that was fun," Wall said.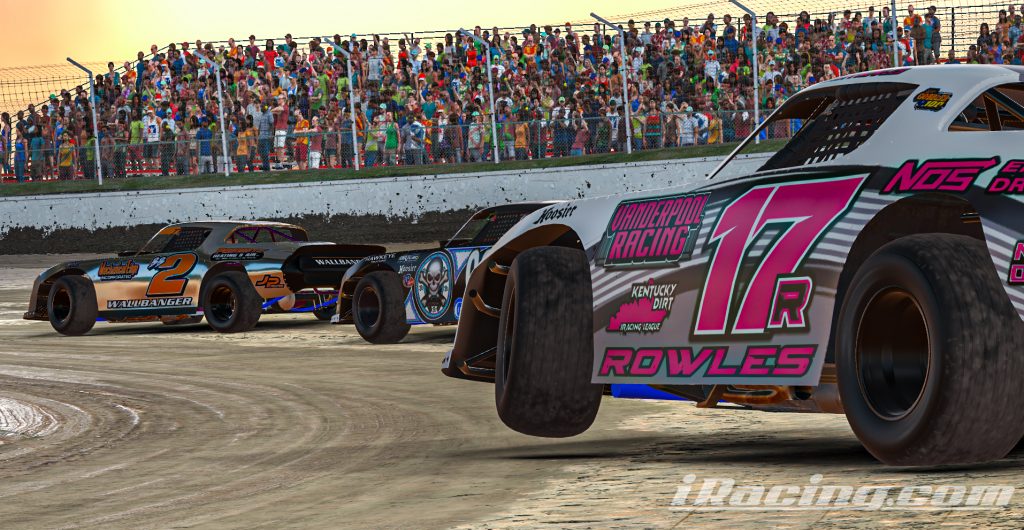 Kilgore stayed glued to the top side and made it work in the final corner, squeaking past Jackson at the line by just over one tenth of a second. He, like Jackson, has won with the League before and is now sitting inside the podium in the points standings.
The Chevy Performance Street Stock League action continues next Wednesday night, April 7, from the Eldora Speedway! Don't miss a moment – watch all the action in the iRacing server at 7pm Eastern or on the DIRTVision live broadcast for free.
Chevy Performance Feature (25 Laps) – 1. 69 – Keith Hackney (1), 2. 2 – Jesse Wall (5), 3. 021 – Carl Kilgore (2), 4. 8 – Tyler Jackson (3), 5. 21 – Jim Reavis (4), 6. 029 – Lane Phillips (8), 7. 121 – Edward Farness (6), 8. 225 – Nathan Lemons (10), 9. 026 – Blade Kearns (7), 10. 92 – Payton Gries (15), 11. 17 – Brett Rowles (11), 12. 48 – Kyle Vaughn (18), 13. 15 – Grant Parr (14), 14. 717 – Bobby Rafferty (13), 15. 260 – Sage Luther (23), 16. 18 – Justin Henson (20), 17. 077 – Holden English (17), 18. 29 – Joshua Divine (19), 19. 71 – Daniel Stiffler (21), 20. 14 – Jaxon Steele (24), 21. 26 – Sean Stevens (16), 22. 93 – Steve Miskolczi (9), 23. 546 – Randy Axner (12), 24. 4 – Nicolas Adkins (22)