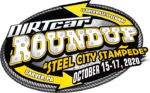 October 15th - 17th, 2020
Lernerville Speedway closes out its 2020 schedule with one of the biggest melees of the season, the 12th annual DIRTcar Roundup Steel City Stampede — a full weekend of racing, camping and fun as 13 divisions take the track for three days of on-track action. Finish the year with a bang!
Competing divisions:
• 410 Sprint Cars
• DIRTcar Super Late Models
• DIRTcar Big Block Modifieds
• DIRTcar UMP Modifieds
• DIRTcar Open Pro Stocks
• RUSH Crate Late Models
• RUSH Wingless Sprint Cars
• RUSH Sportsman Modifieds
• 305 Race Saver Sprint Cars
• Elite Modifieds
• 4 Cylinders
• Western PA 270 Micro Sprint Cars
• Super 6 Late Models
PLUS… 100-lap Enduro!
DIRTcar Roundup Tickets & Pit Passes
Pit Passes
(Thursday, October 15th through Saturday, October 17th)
• 3 Day Member $65
• 3 Day Non-Member $75
(Friday October 16th & Saturday October 17th)
• 2 Day Member $60
• 2 Day Non-Member $70
(Single Day Thursday October 15th)
• Member $25
• Non-Member $35
(Single Day Friday October 16th)
• Member $35
• Non-Member $40
(Single Day Saturday October 17th)
• Member $35
• Non-Member $45
General Admission Prices
(Thursday October 15th)
• FREE Grandstand Admission
(Friday October 16th & Saturday October 17th)
• 2 Day Adult $40
• 2 Day Student $30
(Single Day Friday October 16th)
• Adult $20
• Student $15
(Single Day Saturday October 17th)
• Adult $25
• Student $20
• 10 and under are always FREE
Camping
• All Camping will be $75
• If you would like to reserve a camping spot, call the office at (724) 353-1511
ATV/Golf Cart Passes
• General ATV/Golf Cart Pass $25
• Pit ATV/Golf Cart Pass $40
DIRTcar Roundup Schedule
*SUBJECT TO CHANGE*
Wednesday October 14th, 2020                                                              
12 Noon
Camping Area Opens
5:00pm
"Early Bird" Pit Parking Opens (Pit gate will be locked @ 8pm)
Thursday October 15th, 2020
11:00am
Pit Parking Resumes
2:40pm
Clear Pits
3:00pm
Pit Gates Open
3:00pm
Registration Tent Opens 
3:00pm-9:00pm
'Early Bird' Tech Inspection (Inspection Compound)
5:00pm
Grandstand Gates Open
6:30pm
Sprints Push for Heat
7:00pm-9:00pm
Rotating hot laps for all divisions (each class will at a minimum get 2 sessions at 3 laps)
DIRTcar Open Pro Stocks
RUSH Crate Late Models
DIRTcar Super Late Models
DIRTcar NE Big Block Modifieds
DIRTcar UMP Modifieds
410 Sprints
305 Race Saver Sprints
RUSH Wingless Sprints
RUSH Sportsman Modifieds
Elite Modifieds
Super 6 Late Models
4 Cylinders/Enduro
270 Micro Sprints
10:00pm
Pits Close
Friday October 16th, 2020
11:00am
Pit Parking Resumes
1:45pm
Clear Pits
2:00pm
Pit Gate and Registration Tent Open (Tech Inspection Opens in the Inspection Compound)
5:00pm
Grandstand Gates Open
5:00pm

6:15pm

Thursday Night Hot Laps Resume (1 hour)

Pill Draw Cut-Off (after this time you will be added to the back of a heat race)

6:20pm
Drivers Meeting – all divisions @ The Pit Board
7:00pm
Group Qualifying for Rush Crate Late Models
7:25pm
Opening Ceremonies
7:30pm
Heats Races
DIRTcar Open Pro Stocks-8 Laps
RUSH Crate Late Models-8 Laps
DIRTcar Super Late Models-8 Laps
All Sprint Cars push for heat
DIRTcar NE Big Block Modifieds-8 Laps
DIRTcar UMP Modifieds-8 Laps
410 Sprints-8 Laps
305 Race Saver Sprints-8 Laps
RUSH Crate Late Models Dash-6 Laps
RUSH Wingless Sprints-8 Laps
RUSH Sportsman Modifieds-8 Laps
Elite Modifieds-8 Laps
Super 6 Late Models Heats-8 Laps
4 Cylinders-6 Laps
270 Micro Sprints-6 Laps
Post-Race Party
**All times and events are subject to change**
Saturday, October 17th, 2020                                                                                                                  
10:40am
Clear Pits
11:00am
Pit Gates Open
12 Noon
Tech Inspection Opens (Inspection Compound)
12:30pm
Registration Tent Opens
2:00pm
Redraws
3:00pm
Grandstand Gates Open
3:15pm
Drivers Meeting – all divisions @ The Pit Board
3:30pm
All Last Chance Showdown Sprints push for heat
4:00pm
Last Chance Showdowns
DIRTcar Open Pro Stocks- 8 Laps (if needed)
RUSH Crate Late Models- 10 Laps (if needed)
DIRTcar Late Models- 10 Laps (if needed)
DIRTcar NE Big Block Modifieds- 10 Laps (if needed)
DIRTcar UMP Modifieds- 10 Laps (if needed)
410 Sprints- 10 Laps (if needed)
305 Race Saver Sprints- 8 Laps (if needed)
RUSH Wingless Sprints- 8 Laps (if needed)
RUSH Sportsman Modifieds- 8 Laps (if needed)
Elite Modifieds- 8 Laps (if needed)
4 Cylinders- 8 Laps (if needed)
270 Micro Sprints- 8 Laps (if needed)
Opening Ceremonies
Feature Races
DIRTcar Open Pro Stocks- 20 Laps
RUSH Crate Late Models – 25 Laps
DIRTcar Super Late Models- 25 Laps
All Sprints push for heat
DIRTcar NE Big Block Modifieds- 25 Laps
DIRTcar UMP Modifieds- 20 Laps
410 Sprint Cars- 25 Laps
305 Race Saver Sprints- 20 Laps
RUSH Wingless Sprints- 20 Laps
RUSH Sportsman Modifieds- 20 Laps

**Enduro 100 Drivers Meeting will be held where the cars are staged at this time**

Elite Modifieds- 20 Laps
Super 6 Late Models-15 Laps
4 Cylinders- 15 Laps
270 Micro Sprints- 15 Laps
RUSH Late Model NON-Qualifiers Race- 12 Laps
Enduro 100
12:00am
END OF SHOW
Sunday October 18th, 2020
Rain date for Feature events
**All times and events are subject to change**