Relentless pressure, numerous restarts couldn't shake Illinoisan's concentration
LAKELAND, FL – He may have been beat by Yost & Co. last week, but Tyler Jackson was not going to be denied in week #2.
Jackson, of Rockford, IL, hung tough in Wednesday night's Chevy Performance Street Stock League Feature, going 30 long laps around the virtual 3/4-mile of USA International Speedway. A plethora of caution flags scattered throughout the race made it seem marathon-like, but the race was completed under green in the waning seconds of the time limit.
Numerous restarts were required of Jackson to pick up the checkers, and not a single one of them was easy, as previous Feature winner Richie Yost, of Griffith, IN, was all over his rear bumper for the duration of the race.
"These restarts here with these long straightaways, they're tough," Jackson told League announcer Chase Raudman on the DIRTVision broadcast. "You almost have to do a bit of mirror driving here with the run they can get off the top [groove] on you."
Despite the challenges in his rearview, Jackson found a way to keep composed, leading every lap for the $100 victory – the first of his DIRTcar eSports career.
Last week's winner at Lanier, Richie Yost, put pressure on Jackson the entire distance but could not find a way to make a move for the lead. He gave it everything he had in the final laps and was still satisfied with a runner-up finish.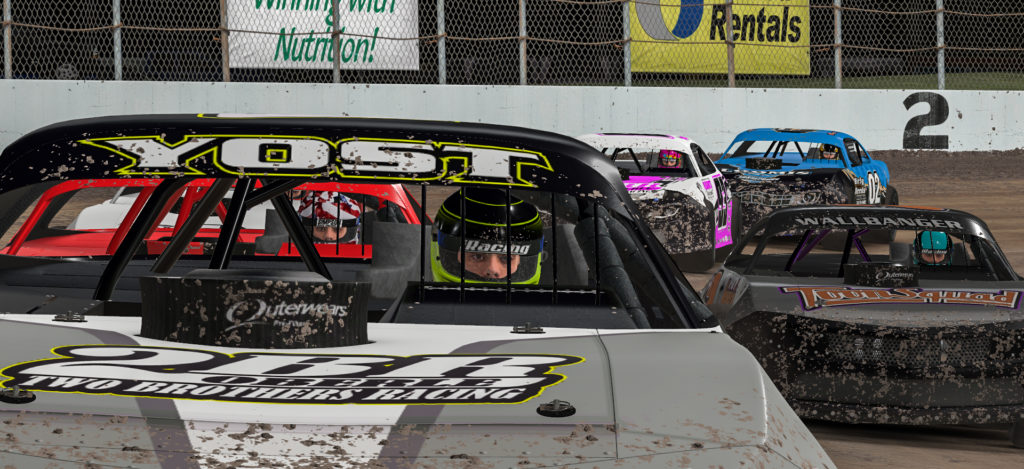 "At a big track like this, it's easy to mess-up," Yost noted. "At the end, I had to go for hero or zero… I had to try to do something."
Grant Parr, a newcomer to DIRTcar eSports, brought it home in third to wrap-up a very solid League debut. Coming from seventh on the starting grid, Parr battled it out with Richie Yost's brother Zane for much of the race and came out on top for a $50 prize check.
"On one of the restarts, I got shuffled up high and was able to make it work, came up through the field and ended up with a solid top-three," Parr said.
The Chevy Performance Street Stock League action continues next Wednesday night, Dec. 16, from the Limaland Motorsports Park – don't miss a moment of the action LIVE on DIRTVision! Head to DIRTcar.com/eSports to register for an event today.
ABBREVIATED RESULTS (click for full results)
Chevy Performance Feature (30 Laps) – 1. 8-Tyler Jackson [1]; 2. 29-Richie Yost [4]; 3. 48-Grant Parr [7]; 4. 03-Brandon Steele [10]; 5. 93-Zane Yost [2]; 6. 2-Jesse Wall [13]; 7. 18-Kyle Sirratt [3]; 8. 07-Chris Meyers [6]; 9. 66-Preston Dimsdale [5]; 10. 17-Mike Arnold [19]; 11. 95-Brian Brunscheen [9]; 12. 02-Bradley Steinruck [14]; 13. 77-Anthony Corini [20]; 14. 24-Tyler Fister [15]; 15. 52-Marty Czekala [18]; 16. 002-Clifford Bellomy [12]; 17. 15-Brian Walker [11]; 18. 10-Caleb Hudgeons [8]; DQ 7-Jaxon Steele [17]; DQ 127-Mikey Wilson [16]