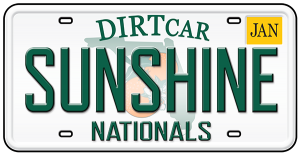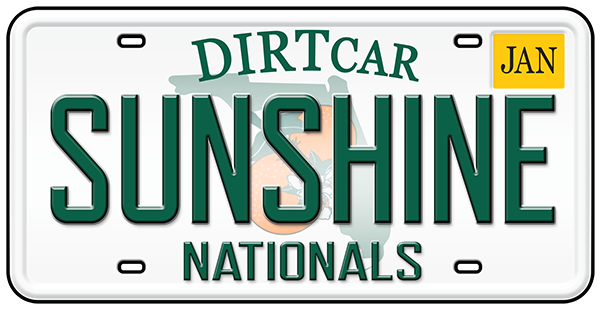 DIRTcar Racing will kick off the 2020 season with the all-new DIRTcar Sunshine Nationals Jan. 16-18 at Volusia Speedway Park. The event will feature DIRTcar Pro Late Models, Florida Late Models and 602 Late Models racing for a total purse of nearly $100,000, including a $10,000-to-win finale for Pro Late Models.
The DIRTcar Sunshine Nationals includes Feature events for all three classes each night at the half-mile speedplant near Daytona Beach, with points assigned to results on the first two nights that will set the field for the Saturday finales, similar to the World of Outlaws Morton Buildings Late Model Series Firecracker 100 weekend.
"Dirt late models are an important part of DIRTcar Racing, and we are excited to showcase them in January at Volusia with the Sunshine Nationals a few weeks ahead of the DIRTcar Nationals," DIRTcar Racing COO Tom Deery said. "With the number of late models running the 602 and 604 motors, especially in the southeast, we felt it was time for them to be the focus of an event like this one. For those further north, where winter is going to be around well into March and April, this gives them a chance to break free from cabin fever, head to Florida for a vacation and go racing."
Just like the DIRTcar Nationals in February, gates will open each day at 5 p.m., with Hot Laps beginning at that time. Tickets and camping for the event will be available at the gate, and you can find tickets for the 2020 DIRTcar Nationals online.
A practice night on Wednesday, Jan. 15, will precede the Sunshine Nationals, giving all competitors a chance to get dialed in before the action counts.
Sunshine Nationals News

BARBERVILLE, FL – Jan. 18, 2020 – Three days of Dirt Late Model racing in the Sunshine State came to...
Divisions Racing
DIRTcar Pro Late Models
602 Late Models
Florida Late Models 604/602
Ticket Prices
GRANDSTAND GENERAL ADMISSION PRICING
Thursday, January 16th, 2020 — $20 Adults, Children 12 and Under Free
Friday, January 17th, 2020 — $20 Adults, Children 12 and Under Free
Saturday, January 18th, 2020 — $25 Adults, Children 12 and Under Free
Pit Admission Prices
Thursday, January 16th, 2020 | Series Member — $25 | Non-Member — $30
Friday, January 17th, 2020 | Series Member — $25 | Non-Member — $30
Saturday, January 18th, 2020 | Series Member — $30 | Non-Member — $45
Event Pit Pass (2 Day) | Series Member — $50 | Non-Member — $60
Event Pit Pass (3 Day) | Series Member — $60 | Non-Member — $75
2020 Event Schedule
*SUBJECT TO CHANGE*
Wednesday January 15

4-8 PM

Pre-Registration opens; Hauler Staging

6-8 PM

Open Practice

Thursday January 16

11:00 AM

Pit Pass sales and registration opens

11:00 AM

Pit gate opens
Hauler load-in

11:00 AM – 9:00 PM

Inspection begins

5:00 PM

Tickets and Front Gate Opens

5:00 PM

Drivers Meeting – all divisions at backstretch bleachers

5:15 PM

Hot Laps 602 Late Models (4 Laps)
Hot Laps Florida Late Models (4 Laps)
Hot Laps Pro Late Models (4 Laps)

6:15 PM

Hot Laps/ Time Trials 602 Late Models (3 laps)
Hot Laps/ Time Trails Florida Late Models (3 Laps)
Hot Laps/Time Trials Pro Late Models (3 Laps)

6:50 PM

Opening Ceremonies
Heats 602 Late Models (6 Laps)

Heats Florida Late Models (8 Laps)

Heats Pro Late Models (8 Laps)

LCS 602 Late Models (8 Laps)

LCS Florida Late Models (10 Laps)

LCS Pro Late Models (10 Laps)

Feature 602 Late Models (15 Laps)
Feature Pro Late Models (25 Laps)
Feature Florida Late Models (20 Laps)

Friday, January 17

2:00 PM

Pit Sales Open

5:00 PM

Tickets and Front Gate Open

5:00 PM

Drivers Meeting All Divisions

5:15 PM

Hot laps/ Time Trials 602 Late Models (4 laps)
Hot laps/ Time Trials Florida Late Models (4 laps)
Hot Laps/ Time Trails Pro Late Models (4 Laps)

6:50 PM

Opening Ceremonies
Heats Florida Late Models (8 Laps)
Heats 602 Late Models (6 Laps)
Heats Pro Late Models (8 Laps)
LCS Florida Late Models (10 Laps)
LCS 602 Late Models (8 Laps)
LCS Pro Late Models (10 Laps)
Feature Florida Late Models (25 Laps)
Feature Pro Late Models (25 Laps)
Feature 602 Late Models (20 Laps)

Saturday January 18

2:00 PM

Pit Sales Open

5:00 PM

Tickets and Front Gate Open

5:00 PM

Drivers Meeting All Divisions

5:30 PM

Hot laps/ Time Trials 602 Late Models (4 laps)
Hot laps/ Time Trials Florida Late Models (4 laps)

Hot Laps/ Time Trails Pro Late Models (4 Laps)

6:50 PM

Opening Ceremonies
Heats 602 Late Models (6 Laps)
Heats Florida Late Models (8 Laps)
Heats Pro Late Models (8 Laps)
LCS 602 Late Models (8 Laps)
LCS Florida Late Models (10 Laps)
LCS Pro Late Models (10 Laps)
Feature 602 Late Models (20 Laps)
Feature Florida Late Models (20 Laps)
Feature Pro Late Models (30 Laps)

Sunday January 19

Rain Date