CONCORD, NC – Birds are thawing, pies are cooling, and DIRTcar eSports season four, round three is in the record books with Blake Matjoulis and Bobby Rafferty cleaning their plates first. 
Blake Matjoulis won $250 in the 40-lap DIRTcar eSports Tour Feature at The Dirt Track at Charlotte driving the iRacing Drydene Pro Late Model this time around. The win should be a significant net gain in the points standings. 
Matjoulis became the third different winner in the first three DIRTcar eSports Tour Features so far this season. He came into the night tied for sixth in points with a pair of Dylans; Yeager and Houser. 
In Chevy Performance DIRTcar Street Stock competition, Bobby Rafferty was king. After tangling in the Heat Race and sorting it out, Rafferty and Bailey Hipp put on a 25-lap DIRTcar Street Stock barn burner at the virtual Limaland Motorsports Park.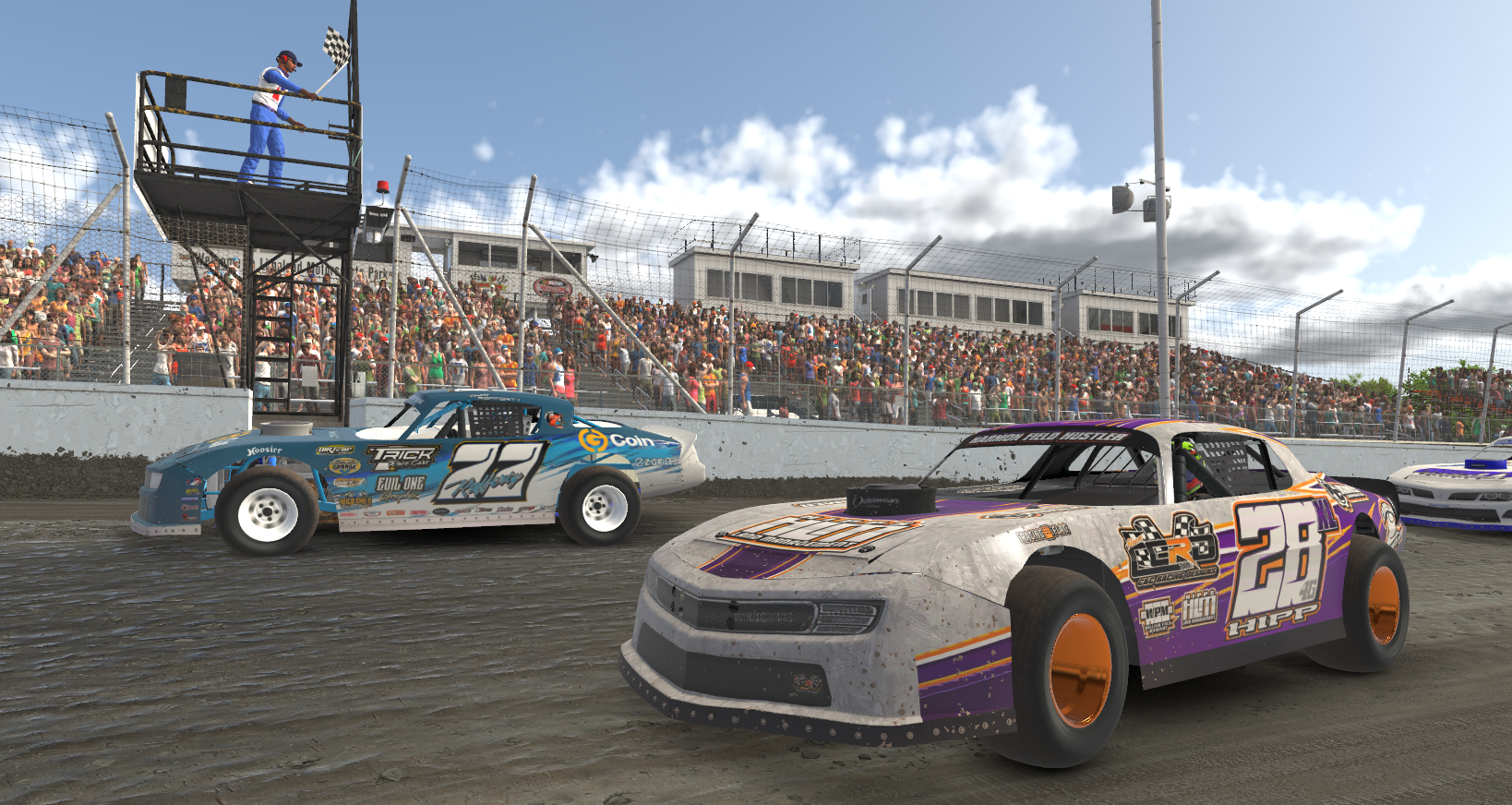 Rafferty topped the duel for the $100 prize on the last lap. It was his first career DIRTcar eSports Feature win.
Pro Late Models presented by Drydene 
It wasn't quite a Thanksgiving turkey shoot for Blake Matjoulis but once he was out in front, the driver of the Swindell Speedlab #127 held his line and kept the competition in his Hoosier Racing Tire tracks for 40 laps. Close behind were Logan Rumsey, Kendal Tucker, and Dylan Yeager who battled tooth and nail all race for the final two podium positions. 
Matjoulis couldn't have started his Thanksgiving festivities any better. 
"It was definitely a good run," Matjoulis said. "We had that middle rolling. I don't think we ever got off the middle/bottom. I took the lead, put down some consistent laps, never made any mistakes, and it paid off. We ended up pulling away there once we got 10 laps into a run. It felt really good there for a fixed setup."
Forty-nine Drydene Pro Late Models attempted to make the 23-car field and it was stacked. The field was so good that Matjoulis never caught lapped traffic over the course of a 30+ lap green flag period. 
"Usually you have some lapped traffic 15-20 laps into a run," Matjoulis noted. "It was pretty odd not having any lapped traffic. But it was a good thing for me."
The top side seemed to dominate qualifying and Heat Races but the winner worked the low line. 
"I thought the bottom would have stayed along for a little longer but it seemed to fade around halfway," Matjoulis said. "We just road the middle there. It would have been interesting to see some lapped traffic to see if they caught up but either way, I think we would have been alright."
Logan Rumsey took home $175 for second place. His night was set up for success in the Heat Race when two heavyweights exchanged blows in front of him knocking themselves out of the top two spots. 
"I didn't expect much tonight," Rumsey said. "I got lucky in the Heat Race. Alex [Bergeron] and Hayden [Cardwell] got together so I won the Heat."
Drivers were constantly watching the changing Limaland surface. 
"I wasn't going to run the top in the Feature," Rumsey noted. "I was just going to roll the middle to stay out of trouble. It worked out. Blake [Matjoulis] is so good at these slick tracks. Yeager was all over me. I'm pretty sure I was in the way but I'll take it."
Third place Kendel Tucker nabbed the final podium position from Dylan Yeager off the final corner of the race. Tucker wasn't satisfied and knows he needs to improve overall. 
"It was a really good run in the Feature," Yeager said. "I gotta get my qualifying program together. It was terrible. Not sure what I need to do to figure out. It's tough starting this far back every race I am in." 
FEATURE (40 laps) 1. 127-Blake Matjoulis [3]; 2. 41-Logan Rumsey [4]; 3. 0-Kendal Tucker [8]; 4. 48-Dylan Yeager [2]; 5. 9-Tanner Tomasi [5]; 6. 27-Josh Thoma [6]; 7. 33-Evan Seay [18]; 8. 8-Austin Hunter7 [11]; 9. 12-Alex A Bergeron [9]; 10. 22-Mason Clark [10]; 11. 97-Tyler Kinsey [14]; 12. 85-Tyler Schell [20]; 13. 36-Ethan C Toedter [15]; 14. 45-Hagen Sorensen [16]; 15. 35-Nick Cooper [22]; 16. 72-Mike Augustine [13]; 17. 331-Dustin Hall3 [21]; 18. 157-Drew Hopkins [7]; 19. 7-Hayden Cardwell [17]; 20. 21-Lyndon Whitfill [12]; 21. 4-Brandon Stuhler [19]; 22. 8-Blair Kraus [23]; 23. 28-Mason Lobb [1]
DIRTcar Street Stocks presented by Chevy Performance 
Former real-world racer and Orange County Fair Speedway fan Bobby Rafferty picked up his first career DIRTcar eSports Feature win after 25 hardscrabble laps around Limaland. Forty DIRTcar Street Stocks presented by Chevy Performance took time in qualifying to make the 24-car field. 
The best of the best in dirt track iRacing were on hand and Rafferty came out on top with a last-lap pass after starting from the 12th position. 
"It's been a long time coming," Rafferty said. "We've been strong with you guys in past races but haven't had the luck fall our way. I am literally shaking after that race. Forget the $100 or anything. This is an official DIRTcar race win. Being a guy from the northeast that lives five minutes from Orange County Fair Speedway, this one means a lot."
The tight confines of Limaland and its notoriously slick surface on iRacing made for a challenging race track for the competitors. Multiple cautions kept the field bunched up. 
"It was a patience game," Rafferty noted. "Myself, Brett [Rowles], and Bailey [Hipp] all got together in the Heat. I had a discussion with Bailey and to his credit, he manned up and apologized. He said it was on him and I said we were good. You know I race clean. I know you race clean. Let's go put on a show. I think that's exactly what we did. I hope everyone enjoyed the show we were able to put on for them."
With a last-lap, lights out pass, Rafferty and the Street Stockers put on one heck of a show. 
Feature (25 laps) 1. 717-Bobby Rafferty [12]; 2. 28-Bailey Hipp [7]; 3. 71-Daniel Stiffler [5]; 4. 17-Brett Rowles [17]; 5. 60-Kyle Householder [11]; 6. 57-Jim Reavis [18]; 7. 115-Eric Tupper [19]; 8. 5-Isaac Salas [1]; 9. 42-Matt Walter [20]; 10. 68-Ronald Pyles [14]; 11. 117-Preston Oberle2 [6]; 12. 26-Sean Stevens [10]; 13. 83-Brian Taft [16]; 14. 44-Chad Marshall [21]; 15. 93-Steve Miskolczi [3]; 16. 822-Tyler Jackson3 [4]; 17. 24-John Quill [22]; 18. 21-Charles C Barnes [13]; 19. 23-Zachary Milano [15]; 20. 30-Stevin Goldner [8]; 21. 76-Robert Palmer8 [24]; 22. 58-Jason Welsh [9]; 23. 91-Blade Kearns [23]; 24. 26-Sage Luther [2]
NEXT UP: DIRTcar eSports season four is off next week but returns with a special non-points race featuring the wingless 360 sprint cars in the Night Before the Fake 500. Sign up with iRacing and join the fun or watch it all live on DIRTVision on Wednesday, December 8.