After three-straight weeks marred by penalties and disqualifications, defending DIRTcar eSports Street Stock League champion Tyler Jackson returned to Victory Lane last Wednesday night at Weedsport Speedway.
Jackson capitalized on the invert in his Heat Race to pick up the win in the eight-lap dash and claim a P4 starting spot for the 35-lap Feature. It didn't take long for him to march his way to the head of the field, advancing to second only five laps in.
A caution-filled opening 10 laps played right into Jackson's hands, enabling him to pass cars and instantly make up ground on his opponents ahead. Upon catching leader Drew Hopkins on Lap 7, the caution was thrown again, putting Jackson right to the outside of Hopkins for the restart.
At the drop of the green, Jackson used the high-side momentum to sneak past Hopkins for the lead on the top. The yellow was once again thrown just after the two crossed the start/finish line to complete Lap 8, making Jackson the new race leader.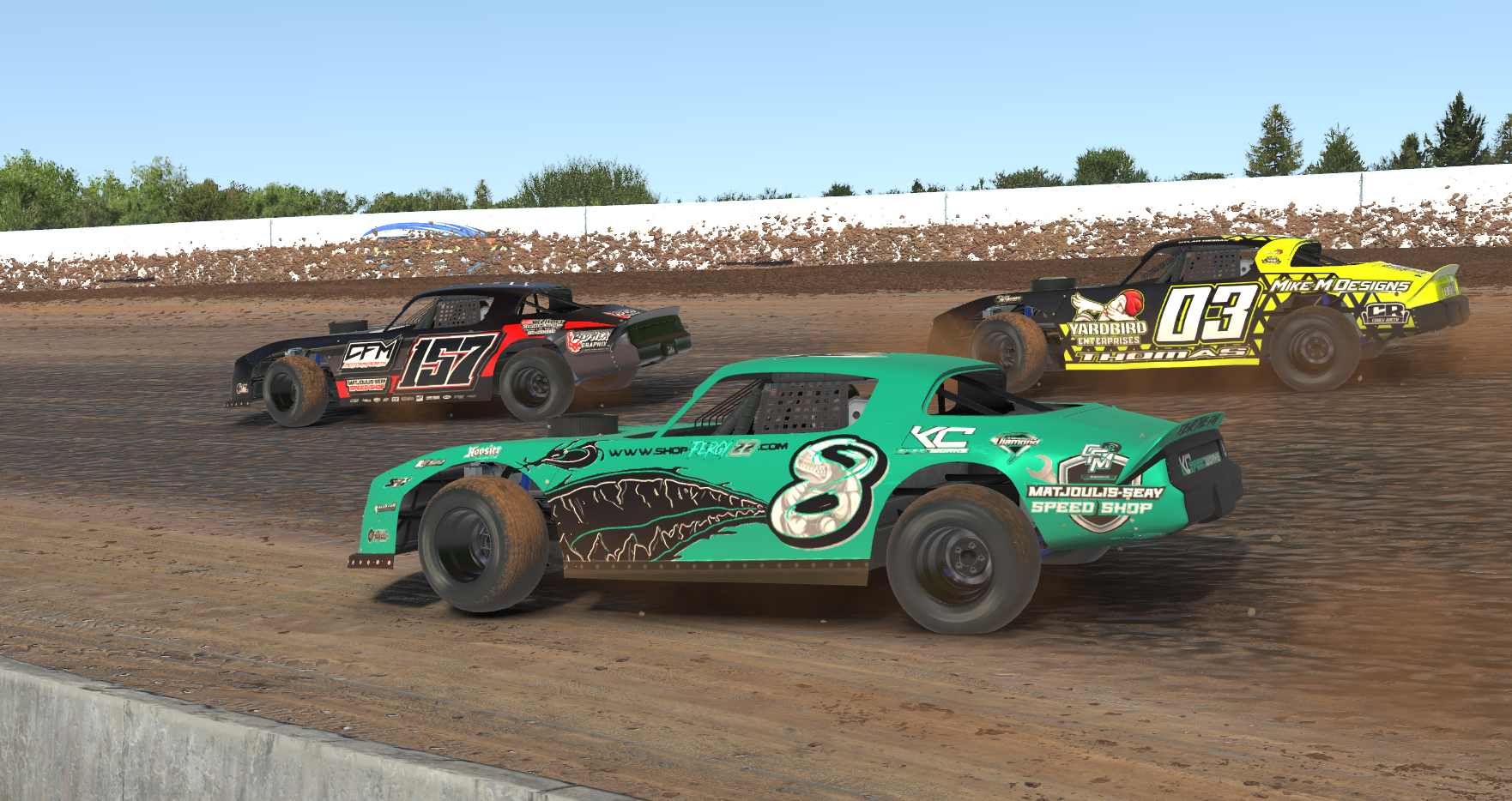 Once the restarts were changed to single-file for the remainder of the race, Jackson took off and set it on cruise control, leading the final 27 circuits around the virtual rendition of Weedsport to bag his first League victory of the season.
Three-time Season 5 Feature winner Jaycee Floyd finished runner-up after trouble in his Heat Race, transferring in through a B-Main and driving all the way from 17th on the grid to bag P2. Hopkins held on for third and shrunk points leader Kyle Jared's advantage down to 92 points with two races left on the season.
ABBREVIATED RESULTS (view full results)
Feature (35 laps) – 1. 822-Tyler Jackson3 [4]; 2. 18-Jaycee Floyd [17]; 3. 157-Drew Hopkins [2]; 4. 37-Brunson Behning2 [8]; 5. 3-Dylan D Thomas [3]; 6. 26-Sage Luther [14]; 7. 52-Billy Northcutt [1]; 8. 55-Cruise Caudell [23]; 9. 45-Kyle Jared [19]; 10. 71-Daniel Stiffler [12]; 11. 2-Ty Dickenson [18]; 12. 5-Dylan Petty [16]; 13. 43-Grady Ehrman [10]; 14. 64-Logan Koteles [13]; 15. 84-Bryce Dickenson [11]; 16. 97-Rocky Battenfield [5]; 17. 22-Joshua Thomas4 [20]; 18. 7-Justin Hopkins2 [24]; 19. 87-Rusty Bilger [15]; 20. 100-Christopher Hill9 [9]; 21. 11-Dustin Fryer [22]; 22. 5-Isaac Salas [7]; 23. 27-Brady Thompson2 [21]; 24. 9-Shawn Hayes [6]