One-hundred thirty nine other drivers signed-up for a chance to take down the best Dirt Oval racers in the biggest Super DIRTcar Series Big Block Modified event in iRacing history. In the end, all fell to their knees and bowed at the feet of CFM eSports ringer Evan Seay, who led all 50 laps of the inaugural DIRTcar Digital Dash to collect the biggest cash prize in DIRTcar eSports history.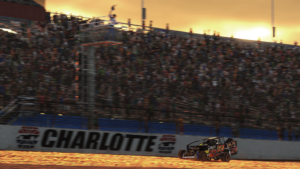 "We've won here with DIRTcar eSports before in the Big Blocks, but that wasn't with the competition we have here tonight," Seay said. "It's not easy, and it definitely feels great to come out here and win again, not just for $250 but for $1,000 is awesome."
Seay is now $1,000 richer after dominating the second day of the two-day event, first winning Magnum Race Design Preliminary Round Feature #1 before setting quick time in Final Round Qualifying and winning the big show from the pole. The Matjoulis-Seay SpeedShop #33 fended off pressure from runner-up Dylan Houser all race long, mastering restarts to keep Houser's #2 at bay behind him.
"I know Dylan is always going to be there on those restarts – he'll trying anything he can to get you off your game," Seay said. "It was hard to figure out which line to choose going into [Turn] 1. I didn't know which line I'd go if I had him cleared to the top, or if I didn't have him cleared what line I could go."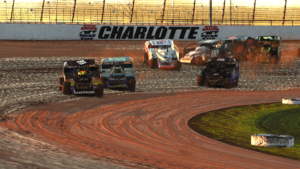 Houser nearly had Seay cleared for the lead on one of the late-race restarts, but the yellow was quickly thrown right after and forced him back to second. Try as he may, Houser was unable to take advantage on the restarts and get by for the lead.
"It was very tough, especially with these cars how the wig-out so bad before you take the green or even just pacing," Houser said. "[Seay] makes one little move and you don't know if he went or if he didn't. So, you've got a 50/50 shot at timing it right."
Third-place Dylan Wilson earned Hard Charger honors after a shy Qualifying effort of 23rd placed him nearly dead-last on the starting grid. In the end, he avoided the accidents and made every lap count on his way to the front, collecting $500 for his efforts.
ABBREVIATED RESULTS (view full results)
DIRTcar Digital Dash Feature (50 laps) – 1. 33-Evan Seay; 2. 2-Dylan Houser; 3. 80-Dylan Wilson; 4. 12-Alex Bergeron; 5. 02-Bryce Bailey; 6. 213-Jim Boniface; 7. 21-Caleb Schellenberg; 8. 85-Hunter Heck; 9. 42-Jordan Casey; 10. 6-Koulten Herbert; 11. 19-Mike Augustine; 12. 91-Felix Roy; 13. 002-Logan Gill; 14. 13-Aiden Bierlein; 15. 157-Drew Hopkins; 16. 82-Dalton DeWert; 17. 96-Gunnar Swanchara; 18. 88-William Watson; 19. 75-Ryan Gofmanas; 20. 32-Izaak Deoliveira; 21. 00-Kendal Tucker; 22. 37-Robby Swan; 23. 74-Loic Bernier; 24. 5-Isaac Salas